Limpopo Province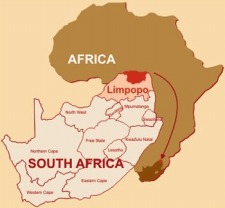 Limpopo Province is South Africa's northernmost province, lying within the great curve of the Limpopo River. The province borders Botswana to the west, Zimbabwe to the north, and Mozambique to the east. It is a region of contrasts, from true bush country to majestic mountains, indigenous forests and farmland.
Nearly 90% of Limpopo Province is rural with a population of over five million people of which a high proportion are younger than 15 years of age. The unemployment rate in the Province is 46%. The area suffers an acute shortage of classrooms and educational facilities. Water and electricity, sanitation and telecommunication are inadequate. HIV and AIDS infection is high; estimated at 17 persons per 100, with potential to affect young people most. Rape and sexual violence are common in the province.
Covering an area of 2880 square miles in northern Limpopo Province, is the community of Venda, home of the VhaVenda people. The programs and people Hope for Limpopo, Inc. currently assist reside in the area of Venda, Limpopo Province, South Africa. If you are interested in reading more about Limpopo and Venda culture and geography visit SouthAfrica.info.